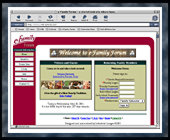 e-Family Forum
A web site within a web site, e-Family Forum includes an online and printer-friendly Family Calendar that displays family events, photos, holidays, and astronomical events. Each family member can create their own personal Family Album page where they can display photos, hobbies, interests, and an address book. e-Family Forum makes a great family gift at a reasonable price.

David Schwindt Studio
David Schwindt has carved a quiet niche as an understated but firmly rooted member of the American landscape tradition. This site features David's landscape paintings of the west and southwest and includes news, gallery listings, biography and images of work.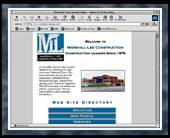 Marshall-Lee Construction
Marshall-Lee Construction Corp. provides experience, professionalism, financial strength, competitive pricing, and a hands-on approach to general contracting.